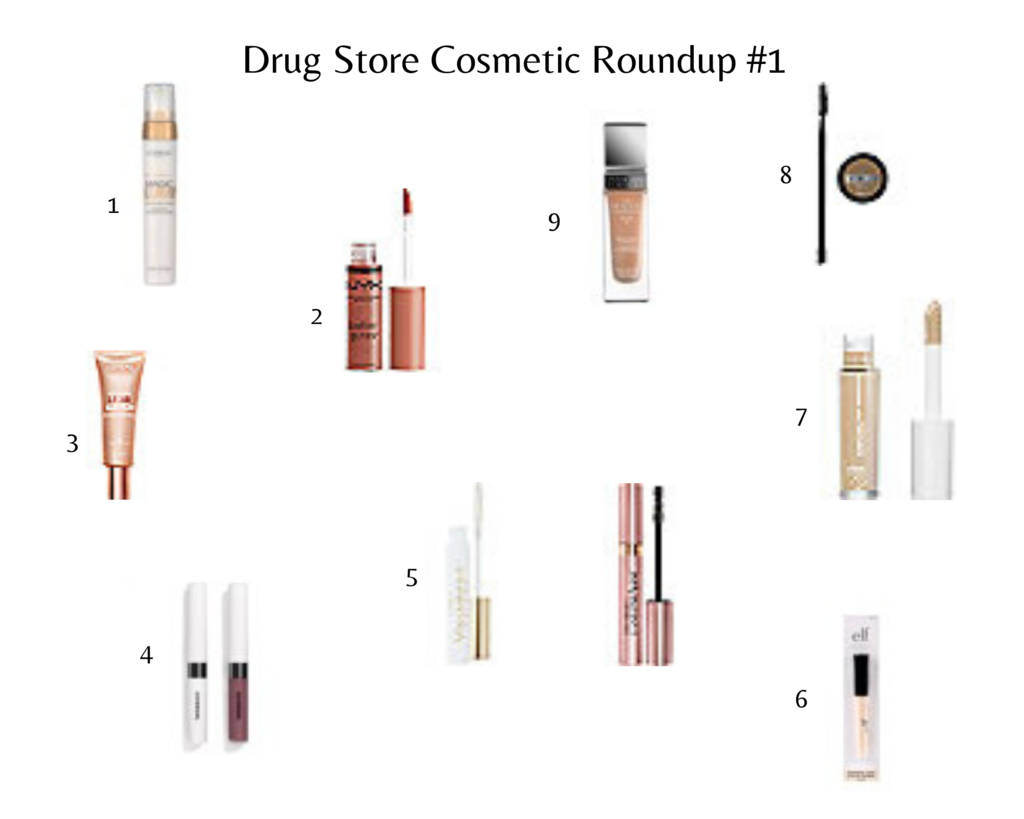 Hi Everyone! Here is a little roundup of some drug store makeup products I am loving right now. This is probably the first of a few roundups I will be posting. So, without further delay…..
1- L'Oreal Magic Lumi Primer– $12.99 at ULTA– I love this Primer! It has a wonderful illuminating affect. I even wear this on days when I am just doing concealer and no foundation. It does a great job of brightening my complexion. I favor this primer over most of the expensive brands I have tried.
2- NYX Butter Gloss– $5.00 at ULTA- It's also buy one get one 50% off right now! This was a new purchase and I am loving it. I usually shy away from glosses because I hate that sticky feeling they can have. That has been a non-issue with this gloss. I purchased it in the color Praline and will probably be grabbing more colors soon!
3- L'Oreal True Match Lumi Glotion– $11.44 on Walmart.com- This is another new purchase for me. I decide to try it after seeing it on Brighton Keller's Instagram Stories. I love to use this on days when I am not wearing a lot of makeup to just give myself a healthy glow. I also use it over my Butter Bronzer. I love that it's not too shimmery. It's just the right amount of luminescence.
4- Covergirl Outlast All-Day Moisturizing Lip Color– $7.94 on Walmart.com- I purchase this in the color Naturalast. I love it! This is stays on all-day-long and doesn't make mt lips feel dry at all!
5- L'Oreal Voluminous Lash Paradise & L'Oreal Voluminous Base– $12.97 on Walmart.com- I purchased this set in Blackest Black. I am not a fan of the waterproof formula. It really gummed up on my lashes and felt heavy. However, I love the regular formula and the base is a must have to add that extra boost to your lashes. I have sensitive eyes and have a lot of trouble finding mascaras that don't make my eyes irritated. That has been a non-issue with this product.
6- Elf Shadowlock Eyelid Primer– $3.75 on Walmart.com This has been a great addition to my makeup routine. It has really helped my eyeshadow to stay put and also kept it from creasing. Plus, you can't beat the price!
7- Elf Hydrating Camo Concealer– $6.00 at ULTA- I just started using this concealer. So far I am pleased with the coverage. I have not used Tarte Shapetape but according to my research, this is supposed to be a great dupe.
8- Maybelline Tattoo Studio Brow Pomade– $9.56 in Walmart.com- I love this stuff! I use this in the color soft brown. It not only fills in my brows but keeps the hairs in place as well. It also stays put all day until I take it off and doesn't smear. Great value!
9- Physician's Formula The Healthy Foundation– $10.98 on Walmart.com- I have been using this foundation for about a month. I am really pleased with it! It has a brightener built in, and SPF 20 and hyaluronic acid. It is a light to medium coverage and feels very hydrating. I live in a very dry climate, so this is important for me! I wear the color L4.
I hope this little roundup has been useful for you. Especially during these times when we are watching our pennies a little more closely. If you have any questions, feel free to comment and I will answer as quickly as I can. TTFN- Tata for Now!